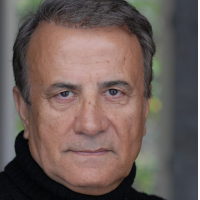 Behcet Kaya
Crime Fiction, Thrillers, Mysteries
Behcet Kaya is the author of four novels. His first literary fiction novel, Voice of Conscience, follows, to some extent, his own life experiences. His second novel, Murder on the Naval Base is a fast-paced who-done-it and his recently published third novel, Road to Siran, Erin's Story is the eagerly awaited sequel to Voice of Conscience.

Born in northeastern Turkey, Behcet grew up in a very small village with long held traditions. His rebellious nature emerged at an early age and by time he was ten, he had read, in secret, all the Turkish translated stories of Mike Hammer. In addition, he read several of Dale Carnage's works, and all of Yashar Kemal's novels. His world burst out beyond that of his small village and he yearned for a more western way of life.

Defying his father, Behcet left home at fourteen and travelled first to Istanbul and then on to London. His obsession was to complete his high school education and then a college degree in engineering. He supported himself by working full-time and earning scholarships from Inner London Education Authority. His creative side began emerging when his drama and literature teacher cast him in a play in which his performance awed the audience. His insatiable appetite for literature widened to include the classics of Dickens, D.H. Laurence, and the Russian masters.

While at Hatfield Polytechnic, Behcet made his first visit to the US as an exchange student with the British Universities North American Club. He made the move to the US in 1976 and became a US citizen in 1985. While living in Atlanta, Georgia he followed his creative yearnings and attended the Alliance Theatre School and studied at the SAG Conservatory of Georgia, which earned him his Screen Actors Guild card. In 1994, Kaya and his wife moved to Los Angeles, where he continued his studies at the Roby Theatre Company and the Shakespeare, A Noise Within, Theatre Workshop.

In the soon to be released movie, "Being American" starring Lorenzo Lamas, Behcet plays the part of a Turkish Defense Minister.

Along with acting, writing became a natural outlet. In addition to his three novels, Voice of Conscience, Murder on the Naval Base, and Road to Siran, Erin's Story and Treacherous Estate. Behcet has published numerous short stories and is currently working on his fifth novel, Body in the Woods.
"Too many of us take great pains with what we ingest through our mouths and far less with what we partake of through our ears and eyes. "